Nationality

England

Position

Defender

Age

32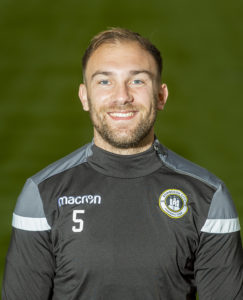 City's seventh signing of the 2018/19 season, we were delighted to sign Conrad Balatoni on a two-year deal on 15 June.  He is a tough centre-half best-known as a fans' favourite at Partick Thistle, where he was part of the side which won promotion to the Premiership in 2013.  Winner of multiple Player of the Year awards that season, he is still remembered with affection by the Firhill faithful.
Conrad was born in Leeds but grew up in Edinburgh.  From Fernieside Boys Club he signed for Hearts as a youth, making his way to the fringes of the first team but not breaking through.  After two loan periods he signed a contract for Partick Thistle in February 2012, where he was noted not only for the quality of his defending but his ability to come forward to score.  He left the Jags in 2015, and after spells at Kilmarnock and Ayr United joined Falkirk on a short-term contract last season.  After six months with National League side Torquay United Conrad returned to Edinburgh and we were fortunate enough to sign him during the summer.
Conrad's genetic cocktail means he is eligible to play for England, Scotland, Hungary and Austria!
Home kit: edinburgh rope access
AWAY KIT: edinburgh rope access
boots: available
League Cup Group
| Season | Club | Goals | Assists | Yellow Cards | Red Cards | Apps | Own Goals |
| --- | --- | --- | --- | --- | --- | --- | --- |
| 2018/19 | Edinburgh City | 1 | 0 | 0 | 0 | 4 | 0 |
| 2019/20 | Edinburgh City | 0 | 0 | 0 | 0 | 4 | 0 |
| 2020/21 | Edinburgh City | 0 | 0 | 0 | 0 | 4 | 0 |
Challenge Cup
| Season | Club | Goals | Assists | Yellow Cards | Red Cards | Apps | Own Goals |
| --- | --- | --- | --- | --- | --- | --- | --- |
| 2018/19 | Edinburgh City | 0 | 1 | 1 | 0 | 5 | 0 |
| 2019/20 | Edinburgh City | 0 | 0 | 0 | 0 | 1 | 0 |
East of Scotland Cup
| Season | Club | Goals | Assists | Yellow Cards | Red Cards | Apps | Own Goals |
| --- | --- | --- | --- | --- | --- | --- | --- |
| 2018/19 | Edinburgh City | 0 | 0 | 0 | 0 | 0 | 0 |
| 2019/20 | Edinburgh City | 0 | 0 | 0 | 0 | 1 | 0 |
Friendly
| Season | Club | Goals | Assists | Yellow Cards | Red Cards | Apps | Own Goals |
| --- | --- | --- | --- | --- | --- | --- | --- |
| 2018/19 | Edinburgh City | 0 | 0 | 0 | 0 | 0 | 0 |
| 2019/20 | Edinburgh City | 0 | 0 | 0 | 0 | 1 | 0 |
SPFL League 2
| Season | Club | Goals | Assists | Yellow Cards | Red Cards | Apps | Own Goals |
| --- | --- | --- | --- | --- | --- | --- | --- |
| 2018/19 | Edinburgh City | 4 | 1 | 2 | 0 | 35 | 0 |
| 2019/20 | Edinburgh City | 1 | 0 | 3 | 0 | 27 | 0 |
| 2020/21 | Edinburgh City | 1 | 1 | 2 | 0 | 13 | 0 |
Scottish Cup
| Season | Club | Goals | Assists | Yellow Cards | Red Cards | Apps | Own Goals |
| --- | --- | --- | --- | --- | --- | --- | --- |
| 2018/19 | Edinburgh City | 0 | 0 | 0 | 0 | 3 | 0 |
| 2019/20 | Edinburgh City | 0 | 0 | 1 | 0 | 3 | 0 |
| 2020/21 | Edinburgh City | 0 | 0 | 0 | 0 | 1 | 0 |
SPFL League 1 Play-Off Semi-Final
| Season | Club | Goals | Assists | Yellow Cards | Red Cards | Apps | Own Goals |
| --- | --- | --- | --- | --- | --- | --- | --- |
| 2018/19 | Edinburgh City | 0 | 0 | 0 | 0 | 2 | 0 |
| 2019/20 | Edinburgh City | 0 | 0 | 0 | 0 | 0 | 0 |
| 2020/21 | Edinburgh City | 0 | 0 | 0 | 0 | 1 | 0 |
Career Total
| Season | Goals | Assists | Yellow Cards | Red Cards | Apps | Own Goals |
| --- | --- | --- | --- | --- | --- | --- |
| 2018/19 | 5 | 2 | 3 | 0 | 49 | 0 |
| 2019/20 | 1 | 0 | 4 | 0 | 37 | 0 |
| 2020/21 | 1 | 1 | 2 | 0 | 22 | 0 |