Nationality

Scotland

Position

Goalkeeper

Age

25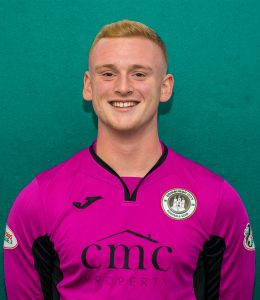 Both City's under-20 keeper and a member of the first-team squad as Calum Antell's deputy, Fraser made only one appearance in the 2017/18 season – a home League against Berwick Rangers in September, in which his all-round performance earned him the Man of the Match award and had a major contribution in earning the club's first League win of the season.
Hailing from a small village near Dumfries, Fraser as a boy played for local sides Heston Rovers and Terregles Youth before a spell with Queen of the South at under-17 and under-20 levels. He was with Dalbeattie Star for a couple of months before moving to Edinburgh to attend Queen Margaret University in 2016, and it was half-way through his first year there that he accepted the invitation to join City's under-20 side, signing on 9 February 2017.
Fraser, a Scottish Schoolboy international, is understandably keen to take the first-choice goalkeeper role again this season.
League Cup Group
| Season | Club | Goals | Assists | Yellow Cards | Red Cards | Apps | Own Goals |
| --- | --- | --- | --- | --- | --- | --- | --- |
| 2017/18 | Edinburgh City | 0 | 0 | 0 | 0 | 0 | 0 |
| 2018/19 | Edinburgh City | 0 | 0 | 0 | 0 | 0 | 0 |
Challenge Cup
| Season | Club | Goals | Assists | Yellow Cards | Red Cards | Apps | Own Goals |
| --- | --- | --- | --- | --- | --- | --- | --- |
| 2017/18 | Edinburgh City | 0 | 0 | 0 | 0 | 0 | 0 |
| 2018/19 | Edinburgh City | 0 | 0 | 0 | 0 | 0 | 0 |
East of Scotland Cup
| Season | Club | Goals | Assists | Yellow Cards | Red Cards | Apps | Own Goals |
| --- | --- | --- | --- | --- | --- | --- | --- |
| 2017/18 | Edinburgh City | 0 | 0 | 0 | 0 | 1 | 0 |
| 2018/19 | Edinburgh City | 0 | 0 | 0 | 0 | 0 | 0 |
Friendly
| Season | Club | Goals | Assists | Yellow Cards | Red Cards | Apps | Own Goals |
| --- | --- | --- | --- | --- | --- | --- | --- |
| 2017/18 | Edinburgh City | 0 | 0 | 0 | 0 | 0 | 0 |
| 2018/19 | Edinburgh City | 0 | 0 | 0 | 0 | 0 | 0 |
SPFL League 2
| Season | Club | Goals | Assists | Yellow Cards | Red Cards | Apps | Own Goals |
| --- | --- | --- | --- | --- | --- | --- | --- |
| 2017/18 | Edinburgh City | 0 | 0 | 0 | 0 | 1 | 0 |
| 2018/19 | Edinburgh City | 0 | 0 | 0 | 0 | 0 | 0 |
Scottish Cup
| Season | Club | Goals | Assists | Yellow Cards | Red Cards | Apps | Own Goals |
| --- | --- | --- | --- | --- | --- | --- | --- |
| 2017/18 | Edinburgh City | 0 | 0 | 0 | 0 | 0 | 0 |
| 2018/19 | Edinburgh City | 0 | 0 | 0 | 0 | 0 | 0 |
SPFL League 1 Play-Off Semi-Final
| Season | Club | Goals | Assists | Yellow Cards | Red Cards | Apps | Own Goals |
| --- | --- | --- | --- | --- | --- | --- | --- |
| 2018/19 | Edinburgh City | 0 | 0 | 0 | 0 | 0 | 0 |
Career Total
| Season | Goals | Assists | Yellow Cards | Red Cards | Apps | Own Goals |
| --- | --- | --- | --- | --- | --- | --- |
| 2017/18 | 0 | 0 | 0 | 0 | 1 | 0 |
| 2018/19 | 0 | 0 | 0 | 0 | 1 | 0 |